Curious Thing is an AI phone interviewer that can measure behavioural attributes like motivation and resilience. Whenever I tell this to prospective customers, they are always intrigued and ask me how the technology works. If you are asking yourself the same thing, then read on!
How we measure behavioural attributes
To assess behavioural attributes, our AI interviewer asks candidates a series of questions that we've designed in conjunction with research partners and human resources experts. An example of a question asked by our AI interviewer might be, "How do you ensure you are a high performing team member?".
Candidates will respond with answers that reflect their experiences and attitudes, just as they would in a natural conversation with a human. Response transcripts are recorded and then scored against a set criteria. We do not score candidates based on factors like tone of voice or accent. Our AI interviewer is blind to these characteristics to reduce bias. We only analyse what you say, not how you say it.
Once a candidate completes an interview with Curious Thing, recruiters can access their interview files and behavioural analytics through our secure and intuitive dashboard. For example, a recruiter can see a candidate scored 7 out of 10 for the motivation attribute, which can then be compared against other candidates.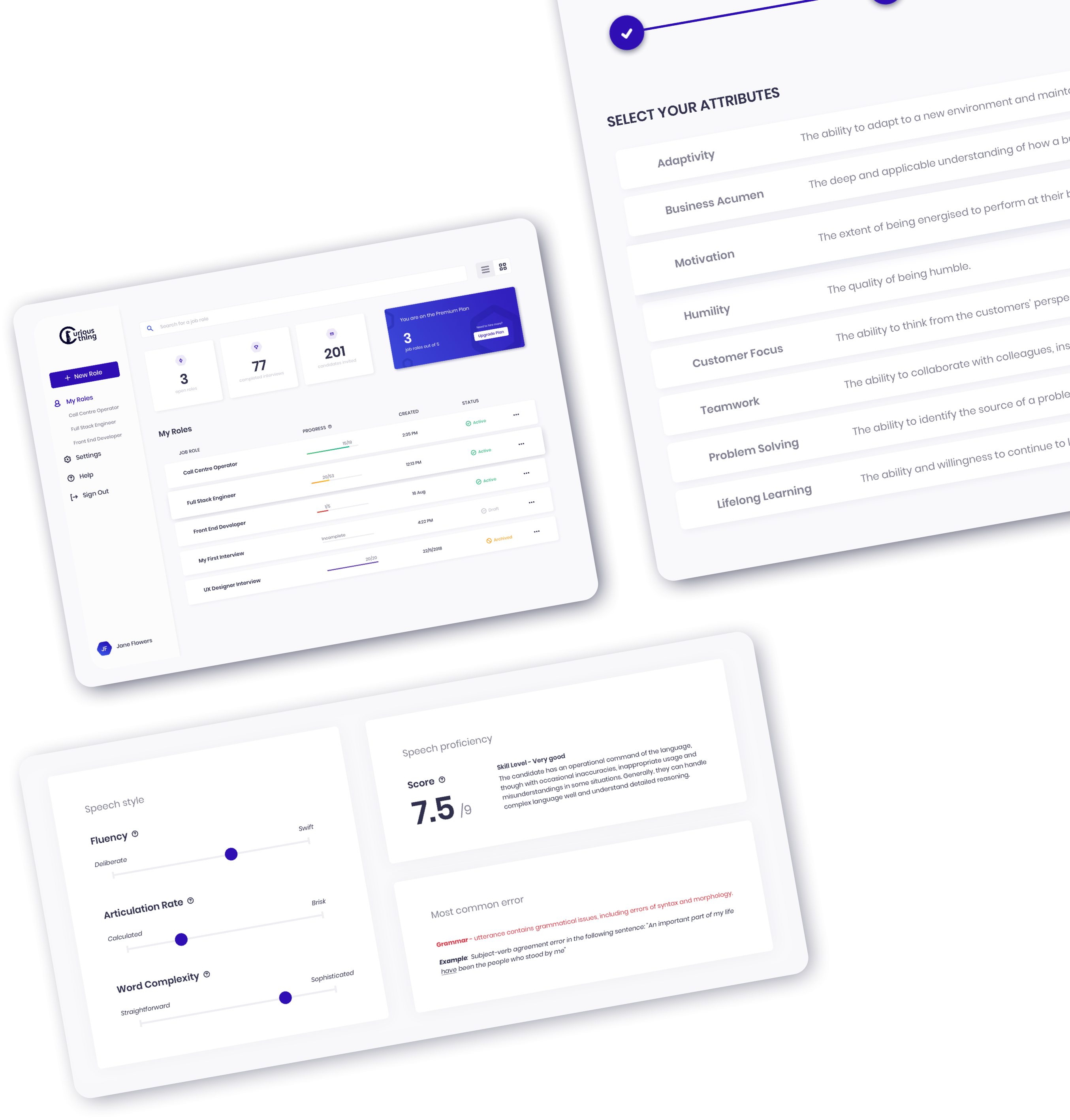 Our AI takes multiple signals and models into consideration when assessing a candidate's answers and scoring their behavioural traits. For example, our technology examines what candidates say on a sentence-level as well as their response as a whole. Natural language processing and deep transfer learning technologies are used to perform this analysis with speed and accuracy.
We also recognise that behavioural traits might mean different things to different companies. Take the motivation attribute for example. One company may focus on value alignment as a key driver, while another might look at career aspiration and potential trajectory. That's why we offer a Model Enhancement Service. This service tailors scoring models to suit specific business needs and can even create new attributes and scoring models. Get in touch with our team at [email protected] to find out more about how this works.
More benefits of AI recruitment tools
With our AI interviewer, time and hiring volume are no longer constraints. Candidates are able to conduct their interview 24 hours a day, 7 days a week, providing a convenient experience that fits into their schedule. Furthermore, everyone who applies for a job has the opportunity to take an interview. This gives every candidate a chance to shine and helps expand the talent pools.
But are AI voice interviews accurate? In our experience, yes! In over tens of thousands of live interviews, we've consistently demonstrated that our voice AI interviews deliver results with the same accuracy as a human. The major difference is that an AI interviewer can process thousands of interviews per day, at any time. Recruiters are instantly presented with benchmarked results and can quickly take candidates with the most desirable scores onto the next stage of the process. For example, venture capital firm Blacksheep Capital and recruitment firm Viventis used Curious Thing to help sift through thousands of candidates and improve their speed to market.
The importance of screening for soft skills
Business landscapes are changing before our eyes. We can't be sure what the next few months or years will bring, but there are some clear trends emerging from the COVID-19 crisis. It's clear that contingent workforces are going to be increasingly important in the future. It's also likely that hiring contractors or short-term employees will become more common. In these scenarios, recruiters will receive high volumes of applications and need to get boots on the ground quickly. Assessing behavioural attributes early in the recruitment process is a great way to rapidly get the right people in front of recruiters.